What our online clients are saying...
"You knocked it out of the park!"
"It was so fun to feel connected again!"
"Energizing and ideas everyone can use!"
"GREAT job… awesome examples to bring back to my team!"
"What an impressive workshop you put together yesterday!"
Looking for ways to keep engagement high, even online?
Want something creative and energizing for meetings or events?

Need  more impact and connection in meetings and presentations?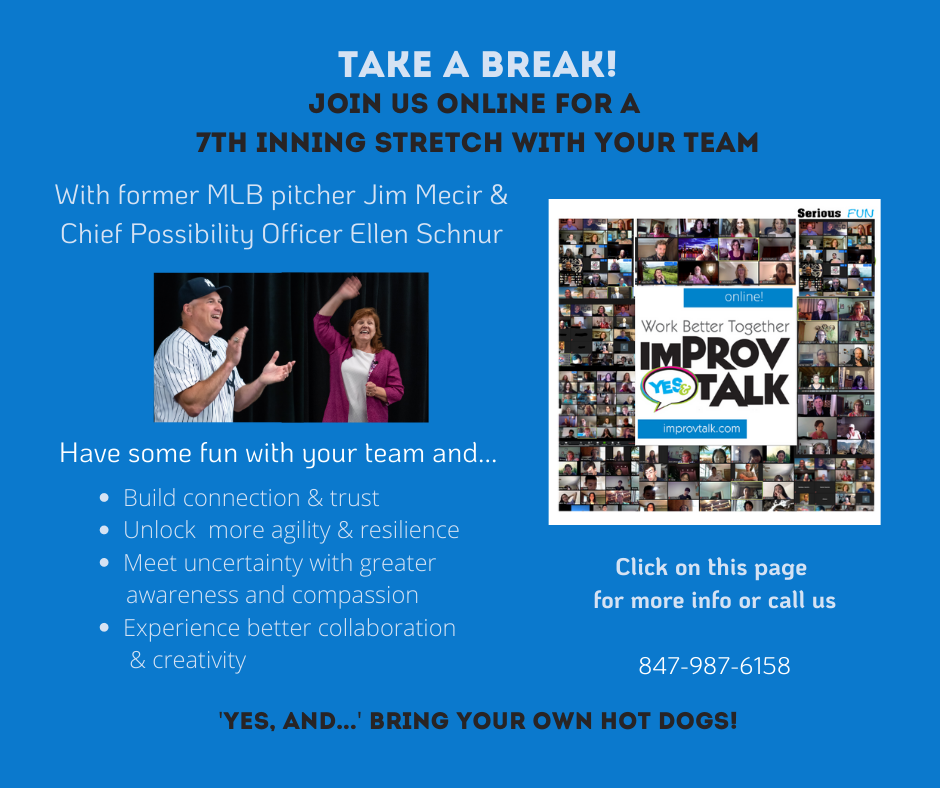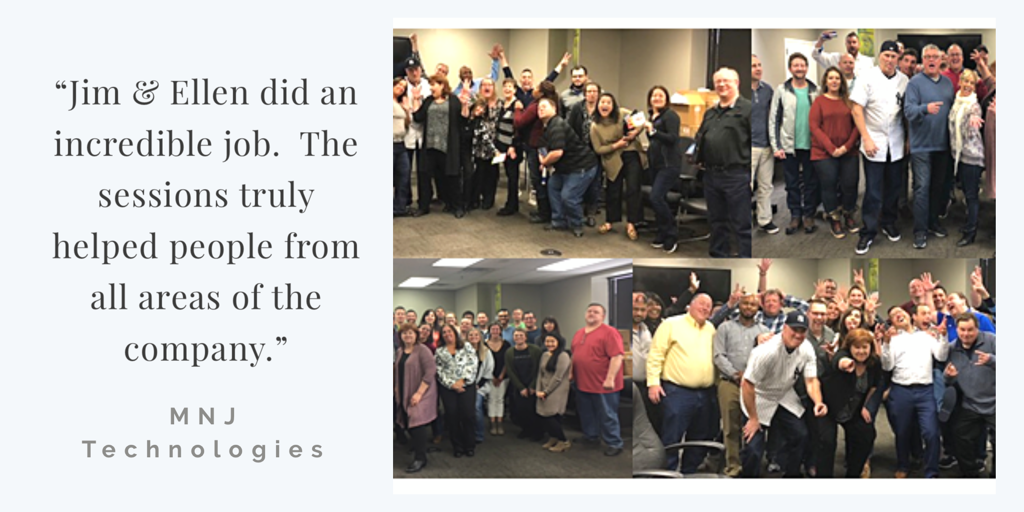 JIM MECIR
Jim pitches powerful experiences of adversity, adaptability and resiliency that invigorate the core of work life. Jim was born with a club foot, yet still achieved his dream to be a Major League Baseball player for 10 years. Through Jim's compelling stories and jaw dropping experiences from the pitcher's mound, he teaches audiences how to form successful teams and organizations by integrating each other's strengths and powering through challenges. Learn more about Jim.
Former Major League Baseball Pitcher, World Series Champ and New York Hall of Famer, Jim Mecir teams up with ImprovTalk President and Improviser, Ellen Schnur to amplify professional skills for each member of your organization. Inspiring stories from the pitcher's mound translate directly to important business lessons which are then practiced through interactive group activities. ImprovTalk brings 'FUN" to hard work and lasting results. Learn More.
ELLEN SCHNUR
Ellen steps off the stage to lead audiences to ditch fear, let go of judgment and seek new possibilities in every career role. Equipped with 25+ years of corporate career experience together with formal improv training from the highly acclaimed Second City, IO (formerly Improv Olympic), and many improv masters, Ellen successfully injects learning with energy, laughter and fun to produce immediate results. Learn more about Ellen.
Our Sessions
From one hour keynote addresses to multi-day sessions – each event is completely tailored to the needs of your organization and gets EVERYONE up, working and laughing together.
Championship Teams at Work
Building a championship organization or team takes an engaged and empowered workforce. And championship teams require that individuals, teams and leaders work together to break down communication barriers between departments and make everyone feel included.
This interactive keynote or work session is designed to help your organization or team begin communicating in an effective way using applied improv techniques – tied with real-world stories of what it means to play on a high-stakes MLB team.
Your audience will break down communication barriers and build the connection-oriented mindset needed so everyone's voice can be heard.
Power Up Your Leadership
Newsflash! Leaders don't have all the answers and they are there to serve the employees, not the other way around. Many companies are trying to shift their culture/climate to a more people-centric, collaborative environment. This shift starts from the top.
This keynote or work session will bring the successful mindset from both championship baseball teams and celebrated improv ensembles to your organization to help your leaders and team members alike begin to make this crucial shift.
Your audience will leave this keynote or work session with a more thorough understanding of what people-centric leadership is and how to utilize it to increase your organization's growth.
Innovation
Innovation is crucial for business survival yet it is a difficult shift to make. You can plaster the walls with posters and send memo's, have brainstorming sessions (that don't work), but what really helps make the shift?
With this highly interactive keynote or work session, Ellen and Jim will help your organization or team experience moving past mental blocks and mindsets to unlock the creative and innovative ability in everyone. Yes, And, also understanding when it's better (and safer) NOT to innovate.
Everyone will get first-hand experience on how to think outside the box plus foster the environment on a regular basis… leading to untold growth and success for your company.