"YES, AND," The Communication Process of Champions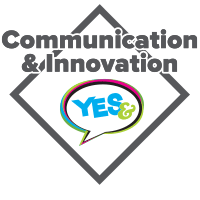 Life is filled with curveballs. As business professionals, dealing with the unexpected is what we do all of the time, improvising as we go. Through interactive lessons, we stretch your range of behavior options to build your improvising muscles. Draw from your accumulated knowledge and life experience on the spot to handle any simple or difficult situation.
The Benefits Gained
Enhance your emotional intelligence – build stronger connections.
Become more resilient – some call it "grit."
Boost your communication skills to get your message across fast.
Be your most authentic and powerful self, even in difficult situations.
Think on your feet, even when 50,000 fans are screaming at you!
Collaborate to innovate – "Yes, And!" is an amazing tool.
Are you ready to laugh a lot, have fun, and walk away with new tools and skills that are valuable in your work and home life?
Click to Learn More About ImprovTalk Services